Bio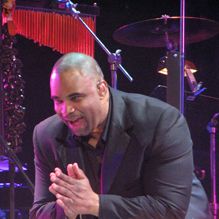 Ron Walters Jr is a keyboardist, composer, arranger, producer, and conductor.  This Chicago native began his musical journey at an early age singing and playing drums in church.  Heavily influenced by the music of Walter Hawkins, Andrae Crouch, Duke Ellington and Count Basie, Ron eventually fell in love with the piano and never looked back.  He went on to study piano with Chicago jazz piano legend, Eddie Baker and attended Columbia College - Chicago, where he was mentored by composer/arranger William Russo.   Ron graduated from Columbia with a degree in Composition and a minor in Conducting. 
In 2004, Barry Manilow took Ron "under his wing" as his new music director.  Ron moved to Los Angeles and has served as Barry's conductor/MD/keyboardist ever since.  With Mr. Manilow, Ron has performed on stages and TV shows all over the world. His most memorable experiences so far are conducting and performing for the Nobel Peace Prize concert in 2010, conducting the Los Angeles Philharmonic in 2019, and conducting the BBC Concert Orchestra in 2019. 
In 2006, Ron received an Emmy nomination for Best Music Direction for the PBS special: "Barry Manilow Sings Songs of The 70's".  
Ron's production credits include:
                      "Don't Let Heaven Pass You By"- Tracy Worth
                      "Rise"- Felton Offard 
                      "Barry Manilow Sings Songs of the 60's" - Barry Manilow (co-producer)
                      "Barry Manilow Sings Songs of the 70's" - Barry Manilow (co-producer)
                       "Naked Soul" - Terisa Griffin (as co-producer)
Ron recently released his new Christmas EP "Incredible Love", currently available on all outlets.